It's been quite a while since I've talked through any of my tools, so I thought I'd write another Inside the Toolkit post today, going through one of the things that no one in SEO can live without: Excel.
Wrapping your head around MS Excel and spreadsheets in general is one of those rites of passage for an SEO. When I started, I really wasn't that good with it at all – I did start out as a copywriter, after all. Word was my mainstay, and it still is, but I can't imagine being as effective these days without Excel. However, as great as the base functionality is, there are loads of add-ins which can add extra options to it that can really help you speed things up. Here are a few of my favourites.
SEO Tools for Excel
I've talked about this a few times over the last year or so, but it really is a plugin that no one should be without, especially now it's added MajesticSEO functionality. This really is one of the best Excel plugins out there and it's a real timesaver.


Want to check a bunch of URL status codes but don't have time boot up Screaming Frog? It's there. Want to see what a broken link does on a https site? Go for it. Want to get Majestic Trust Flow for a load of links? No problem. Want to scrape some pages? If you know your way around XPath, you can do that too. There's really very little that it can't do, although I would absolutely love to see AHREFS integration added to it. You can even use it to turn Excel into an on-demand rank checker, which is just awesome.
SEO Tools for Excel is free and, although the installation isn't point-and-click, it is still the one add-in I genuinely don't think I could live without. Give it a go if you're not already.
Excellent Analytics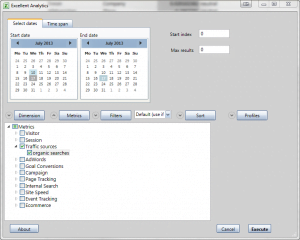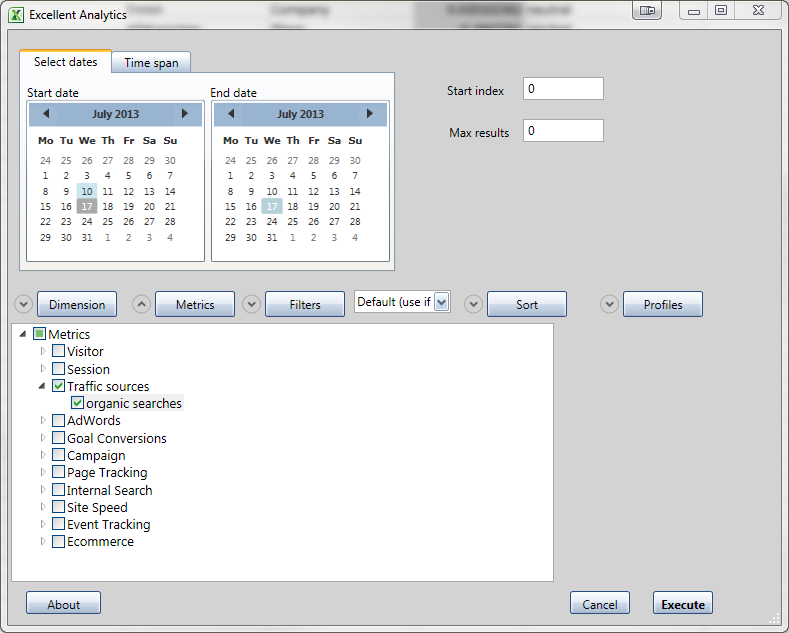 As much as I love Google Analytics, sometimes you just want the data in a spreadsheet. This will do that. Using Excellent Analytics, you can export almost any data you want from your Analytics account straight into Excel without ever having to go to the Analytics site in a browser.
There's loads that this add-in can do, and I daresay it's a post in its own right, but suffice to say that this plugin has helped me shave absolutely tons of time off of my reporting and auditing. It's free as well, and I really recommend it. If the devs are reading this, please add the capability to export filter configurations; you'd make my life much easier and I'd love you forever (and give you cash, too).
Bing Ads Intelligence
Keyword research is one of my favourite parts of SEO, and a big part of it for me is finding new metrics to investigate and evaluate. Bing Ads Intelligence is a really quick and easy way to let you do that with Bing's search volumes (often paltry, admittedly) and suggestions, which are mostly fairly useful and relevant. It's really handy when you're looking at doing some advertising through AdCenter, too.
The add-in is free, but you do need to enter a card when you sign up for an AdCenter account, so that's something you should be aware of, although it doesn't charge for keyword research to the best of my knowledge.
Microsoft Power Query
This thing is great and, to be honest, I've only just started to scratch the surface of what Microsoft's Power Query (formerly Data Explorer) Excel add-in can do. I've mostly been using it to pull Facebook data into Excel for targeting means, but I've experimented with a load of other things. There's so much that can be done with it that I doubt I'll ever have the time to discover everything, so I'd love to hear your other uses for it in the comments.
Power Query is currently free, but knowing Microsoft, there might be a charge later on down the line, so it's worth grabbing it while you can.
Semantria
This is my new favourite toy. I'm a big fan of the Alchemy API and use it a lot in my keyword research and link prospecting, but I've always found its lack of an Excel plugin a bit of a frustration. Semantria does a similar thing to Alchemy, and it's got a really well-built Excel plugin, so if you want to pull entity associations, semantics and more from a batch of text straight into Excel, this is well worth a look.
The Semantria Excel plugin gives you access to lots of useful data very quickly and their sentiment level metric is one of the best I've seen, as it gives you levels of positivity/ negativity, rather than just an overall statement. The only thing the plugin is missing is the ability to analyse the text straight from a URL rather than having to paste it in, but that extraction is probably possible with the scraper function in SEO Tools for Excel (if you know how to do that, give me a shout and I'll update this post with a link).
Semantria is free for up to 10,000 uses, but after that it goes up to $999 a month, which is worthwhile if you do hardcore sentiment analysis, but probably not justifiable for most SEO uses. That said, I don't think I'll be getting through that many calls for quite a while, so the free option's a good choice for me.
That's All For Now
I've only really scratched the surface of what these plugins can do here, but they're all increasingly essential parts of my day-to-day toolkit and if you use Excel a lot for SEO, they're all well worth installing.
How about you? Do you have any more for me? The comments are open, so let me know. Also, this is my first post since I've moved away from Feedburner and on to FeedPress. I think I did the migration properly, but if you're an RSS subscriber and didn't get this post, give me a shout either here or on Twitter.